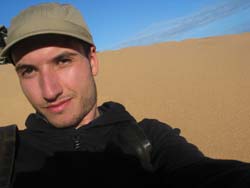 Nationalität:
Slovenia
Arbeitsbereiche:
Musik
Teilnahme:
KOFOMI #11 – 2006 and KOFOMI #12 – 2007

Miha Ciglar geboren 1980 in Maribor, ist Komponist und Klangkünstler, er studiert zur Zeit an der Universität für Musik und darstellende Kunst in Graz/Österreich. Ursprünglich aus Maribor/Slowenien, lebt und arbeitet Ciglar nun in Westeuropa. Seit 2001 führte er seine eigenen Kompositionen für Saxophon, Gitarre, Vibraphon, Kontrabass, sowie elektroakustische Performances, interaktive Tanzperformances, Computermusik und audiovisuelle Installationen auf vielen Kunst-Festivals auf der ganzen Welt auf. Seine Arbeit hat strenge konzeptuelle Grundlagen und liegt fernab der Ausdruckswerte herkömmlicher ästhetischer Ideale. Ein wesentlicher Gegenstand dieser Auseinandersetzung ist das Problem der absoluten Bewußtheit klanglicher Wahrnehmung, das direkt mit der Frage der grundsätzlichen Legitimierung von Klangkunst zusammenhängt. Ciglars kompositorischer Zugang zu und Umgang mit technologischen Lösungen sind ähnlich und wurzeln in der Wiederaufbereitung existierenden Materials, von dessen Zerstörung, die den ursprünglich gedachten Sinn abzieht, bis zu einer Verwendung in weiteren Schaffensprozessen.
---
Miha Ciglar is a composer and sound artist currently studying at the University of Music and Dramatic Arts in Graz, Austria. Originally from Maribor, Slovenia, Ciglar now lives and works in Western Europe. Since 2001 he has performed his own compositions for saxophone, guitar, vibraphone, double bass, electro-acoustical performances, interactive dance performances, computer music and audiovisual installations at many art festivals all around the world. His work has strong conceptual fundaments and points away from expressive values of common aesthetic ideals. A subject of high concern and priority is the problem of absolute awareness of sonic perception which is directly connected with the question of existential legitimacy of sound art. Ciglar's compositional approach and attitude towards technological solutions are very similar and rooted in a revaluation of existent "material", resulting in its preliminary decomposition, in order to absorb its originally suggestive character for an employment in the further process of creation.
Website:
http://www.ciglar.mur.at/