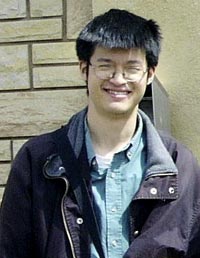 Nationalität:
United States
Teilnahme:
kofomi #12 – 2007

geboren in Baton Rouge/Los Angeles, begann im Alter von 5 Jahren zu komponieren. Er studierte am Harvard College Musik und Physik sowie an der University of California, Berkley Komposition (Olly Wilson). Von der American Academy of Arts and Letters bekam er das Charles Ives Stipendium. Seine Werke wurden u. a. im Rahmen der Festivals June in Buffalo, der Wellesley Composers Conference, der Rencontres de nouvelle musique in Domaine Forget, dem Ernst Bloch Festival, u. a. vom New York New Music Ensemble und dem California EAR Unit aufgeführt. Arbeitsaufenthalte in der MacDowell Colony, im Virginia Center for the Creative Arts und im Atlantic Center for the Arts in Florida. Hubert Ho ist auch Pianist und begeisterter Interpret Neuer Musik. Zuletzt spielte er im Rahmen der Darmstädter Ferienkurse für Neue Musik.
---
A native of Baton Rouge, LA, Hubert Ho has been writing music since the age of five. He received his Ph. D. in music composition from the University of California, Berkeley under the guidance of Prof. Olly Wilson. He has also worked with Profs. Cindy Cox, John Thow, Edmund Campion, Edwin Dugger, and David Wessel. He received his B.A. with honors in music and physics at Harvard College where his previous mentors include Mario Davidovsky, Bernard Rands, and Jeff Nichols.Additional studies include work with Dinos Constantinides at Louisiana State University.
A former United States Presidential Scholar in the Arts, he is a recipient of the Charles Ives Scholarship from the American Academy of Arts and Letters. His music has been performed at such festivals as June in Buffalo, the Wellesley Composers Conference, Cincinnati Conservatory's Music 99 and Music 2001, the Rencontres de nouvelle musique at Domaine Forget, the Aspen School of Music Advanced Master Class Program, the Ernest Bloch Festival, Arcosanti New Music Workshop, New Music North, and various Society of Composers conferences, at such venues at the Kennedy Center and Carnegie Hall. His music has been performed by groups including the New York New Music Ensemble, California EAR Unit, Das Chicas Trio, and the Bakersfield Symphony New Directions chamber concert series, and also by individuals such as Mary Farbood on Harpsichord and Amanda Pepping on trumpet. He has also held artists residencies at the MacDowell Colony, the Virginia Center for the Creative Arts, Yaddo, the Atlantic Center for the Arts in Florida, the I-Park Artists' Enclave in Connecticut, and the CalState SummerArts Festival. He was a staff composer at the 2003 Eugene O'Neill Puppetry Conference, writing incidental music for puppet theater. He is an enthusiastic new music pianist as well, having performed with the groups Earplay (S.F.) and the Berkeley Contemporary Chamber Players (Berkeley). His scholarly interests include the relationship between music theory and psychoacoustics, and has delivered papers at various theory conferences on the music of Martinu* and Varése.
During his stint as a U.S. Fulbright student scholar he was working with Marek Kopelent at the Academy of Performing Arts in Prague. He recently performed as a pianist at the Acanthes Festival in Metz, France and at the Darmstadt Ferienkurse fur Neue Musik. Future projects include a clarinet quartet for members of the Bakersfield Symphony, a film – music collaboration with New York video artist Pawel Wojtasik, and premieres in Amsterdam and Venice.