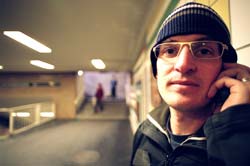 Nationalität:
Austria
Arbeitsbereiche:
Musik
Teilnahme:
KOFOMI #11 – 2006

Komponist, Fagottist, Zitherspieler
Eigentlich ist Christof Dienz Fagottist und Komponist. Er war Fagottist an der Wiener Staatsoper und komponierte für sein Ensemble "Die Knödel", das Bruckner-Orchester Linz, Ernst Kovacic u.v.a.
Christof Dienz gibt Solokonzerte und spielt in verschiedensten Formationen u.a. mit Marc Ribot, Richard Dorfmeister, Miriam Makeba, DJ DSL, Lukas Ligeti, Hubl Greiner, Pavel Fajt, Lorenz Raab und vielen mehr
geb. 1968 in Innsbruck, aufgewachsen in KitzbühelBesuch des Musikgymnasiums Innsbruck , erste Kompositionen für Mitschülerab 1989 in Wien Jobs wie Plakatierer , Stagehand, Barkeeper , Veranstalter
von 1991 – 1999 Fagottstudium an der Uni Wien / Musik bei Prof. Turkovic
von 1997 – 2000 Fagottist im Bühnenorchester der Wiener Staatsoper
von 1992 – 2000 Leiter und Komponist des Ensembles DIE KNÖDEL
(4 CD , Filmmusik zu 2 Kinofilmen, Konzerte in Europa, USA , Kanada , Mexiko , Südafrika, Japan , Tuva , … )seit 2000 freiberuflicher Komponist und Fagottist
seit 2002 Soloprogramm mit Zither und Loopgenerator : DIENZ ZITHERED
2005 ausgezeichnet mit dem Emil-Berlanda-Preis
2005 Tournee Südafrika (mit Miriam Makeba)
2006 SKE Jahresstipendium
2006 Ö1 Pasticcio Preis
Nominiert für Amadeus 2006 / FM4 Alternativ Award
Er komponiert Filmmusik (Antonin Svoboda, Jessica Hausner / Coop 99 etc.) und Theatermusik.
---
Composer, bassoon player zither performer. Basicly Christof Dienz is composer and Bassoonplayer. He was used to be bassoonplayer for the Vienna Opera Orchestra and composed most music for his ensemble "Die Knödel", the Bruckner-Orchestra Linz, Ernst Kovacic and many more.
Concerts with Marc Ribot, Richard Dorfmeister, Miriam Makeba, DJ DSL, Lukas Ligeti, Hubl Greiner, Pavel Fajt and Lorenz Raab etc.
born 1968 in Innsbruck , grownup in Kitzbühel
musichighschool in Innsbruck , first compositions
from 1989 in vienna, jobs as poster biller, bartender, stagehand…
from 1991 – 1999 bassoon studies in vienna with Prof. Turkovic
from 1997 – 2000 bassoon player at vienna state opera
from 1992 – 2000 musical director of DIE KNÖDEL (4 CD for recrec/switzerland / kochrecords /usa, soundtracks for 2 movies,more then 300 concerts in Europa (Festival Mimi, Jazzfestival Moers), USA (Merkin Hall, Knitting Factory) , Canada (Vancouver Folkfest, Calgary, Toronto, Winnipeg , Mexiko , Japan , South Africa, Tuva, etc.)
since 2000 freelanced bassoon player and composer
since 2002 solo with zither and loopgenerator : DIENZ ZITHERED
2005 Tour South Africa (with Miriam Makeba)
Ö1 Pasticcio Award
SKE annual award 2006
He composes music for film and theater.
Website:
http://www.dienz.at/